Show Posts
This section allows you to view all posts made by this member. Note that you can only see posts made in areas you currently have access to.
Topics - Springer
Pages: [1]
2
« on: August 02, 2013, 01:17:04 AM »
The Alabama chapter of AMGRASS was invited over to a local dealer, Big #1, to give a demonstration of Gymkhana. Do to limited parking lot space a GP8 course was laid out. Fun times were had, some lies got told, hamburgers and hot dogs got ate, and a few cones were killed.
Short slideshow;
GP8 @ Big #1 movie on Vimeo
3
« on: May 28, 2013, 04:10:35 PM »
4
« on: May 25, 2013, 03:00:44 AM »
Just a impromptu get together on a warm spring night.
The last rider in the video, on the red Duc, that was his first time ever to kill a kone.
He is ready for a full gymkhana now.
https://vimeo.com/66950893
5
« on: June 07, 2012, 09:53:59 AM »
The New york Times called this youtube video a "MUST SEE FOR ALL MOTORCYCLIST"
Don't Duck walk your motorcycle! Make Steven proud, come on out to Gymhkana June 16 in Birmingham.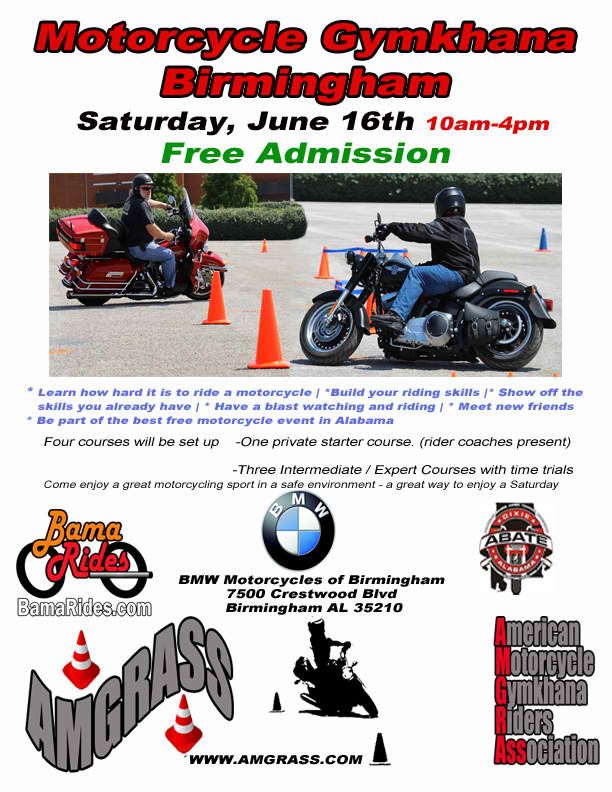 6
« on: June 01, 2012, 01:12:34 AM »
Back again! Let's kill us some cones!
Pages: [1]